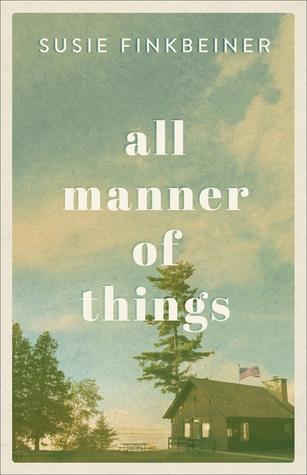 When Annie Jacobson's brother Mike enlists as a medic in the Army in 1967, he hands her a piece of paper with the address of their long-estranged father. If anything should happen to him in Vietnam, Mike says, Annie must let their father know.

In Mike's absence, their father returns to face tragedy at home, adding an extra measure of complication to an already tense time. As they work toward healing and pray fervently for Mike's safety overseas, letter by letter the Jacobsons must find a way to pull together as a family, regardless of past hurts. In the tumult of this time, Annie and her family grapple with the tension of holding both hope and grief in the same hand, even as they learn to turn to the One who binds the wounds of the brokenhearted.

Author Susie Finkbeiner invites you into the Jacobson family's home and hearts during a time in which the chaos of the outside world touched their small community in ways they never imagined.
Honestly, I'm not sure what I thought of this book!  It was sad and difficult but so gripping and so many layers.  Taking place in Michigan in 1967 and dealing with the Vietnam war, it gives so much insight; not only to the war but also life and racial relations in rural America.  From Mike's letters we learn about the servicemen in Vietnam.  But from the ongoing story and letters from Annie, we understand the times.  I loved how both Mike and Annie grow in their relationships to God, that even if He seems far away, He really hasn't gone anywhere.
So, although I really wanted to keep reading the book to find out the ending (and there is good in the ending), it was not what I wanted to read – it was hard and didn't make my day brighter.  Maybe part of my problem was the characters were too real and I like happy endings.  I received a copy of this book from the publisher. I am freely writing a review – all thoughts and opinions are my own.
The Author:  Susie Finkbeiner – Susie Finkbeiner is a story junkie. Always has been and always will be. It seems it's a congenital condition, one she's quite fond of.
After decades of reading everything she could get her hands on (except for See the Eel, a book assigned to her while in first grade, a book she declared was unfit for her book-snob eyes), Susie realized that she wanted to write stories of her own. She began with epics about horses and kittens (but never, ever eels).
It takes years to grow a writer and after decades of work, Susie realized (with much gnashing of teeth and tears) that she was a novelist. In order to learn how to write novels, she read eclectically and adventurously (she may never swim with sharks, but the lady will jump into nearly any story). After reading the work of Lisa Samson, Patti Hill, and Bonnie Grove she realized that there was room for a writer like her in Christian fiction.
Her first novels Paint Chips (2013) and My Mother's Chamomile (2014) have contemporary settings. While she loved those stories and especially the characters, Susie felt the pull toward historical fiction.
When she read Into the Free by Julie Cantrell she knew she wanted to write historical stories with a side of spunk, grit, and vulnerability. Susie is also greatly inspired by the work of Jocelyn Green, Rachel McMillan, and Tracy Groot.
A Cup of Dust: A Novel of the Dust Bowl (2015), Finkbeiner's bestselling historical set in 1930s Oklahoma, has been compared to the work of John Steinbeck and Harper Lee (which flatters Susie's socks off). Pearl's story continues with A Trail of Crumbs: A Novel of the Great Depression (2017) and A Song of Home: A Novel of the Swing Era (2018).
What does she have planned after that? More stories, of course. She's a junkie. She couldn't quit if she wanted to.