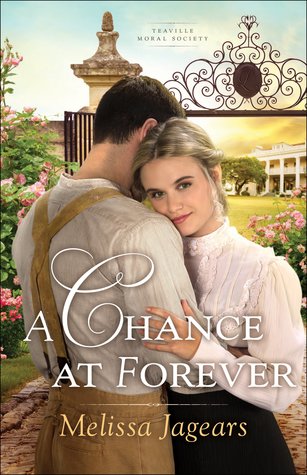 I loved going back to Teaville and getting caught up on the Moral Society again! This time it's a new male character, Aaron, who has come back to the town he grew up in and was known for being quite the nasty bully. Introduced in the 2nd book of the series, A Love So True, Mercy "was always willing to help, even though a birth defect had left her with a missing right hand." She left Teaville as a child (but was very affected by the bullying of Aaron!) and only moved back a year earlier. She and her brother and sister-in-law run the orphanage set up in the large mansion. Although this is the 3rd book in the series and much is to be gained by reading the previous ones, this book tells the stories of these 2 newer characters, so the book does stand alone.
I really enjoyed how the author showed how bullying really affects people for years and years. Kindness, similarly, also makes a lifelong impact. And woven with these truths are also truths about God – "If he could trust God to get him to heaven, he needed to trust that God could work miracles in him here on earth, too – because if her continued to rely on himself, well, he'd only keep proving how ineffectual he was."
Of course, I also loved the sweet romance between Mercy and Aaron! I was so fortunate to receive a copy of this book from the publisher. I am freely writing a review – all thoughts and opinions are my own.
Determined to protect the children of Teaville, Kansas, from the bullying she experienced as a child, Mercy McClain finds fulfillment working at the local orphanage and serving on the school board. When Aaron Firebrook, the worst of her childhood bullies, petitions the board for a teaching position, she's dead set against his getting the job.

Aaron knows he deserves every bit of Mercy's mistrust, but he's returned to his hometown a changed man and is seeking the forgiveness of those he wronged. He doesn't expect Mercy to like him, but surely he can prove he now has the children's best interests at heart.

Will resentment and old wounds hold them back, or can Mercy and Aaron overcome the past in time to battle the threats against the future of the town's orphans?

"The third book in Jagears' Teaville Moral Society series is a delightful addition with its wonderful message about God's promises for the future and the closure of one's past. . . . The characters are complex, and their struggles are realistic and believable, as are the details of the early 1890s time period. The romance is sweet and lovely, and Jagears knows how to pull heartstrings. If you are a historical inspirational romance reader, this is a fantastic read in an enjoyable series."–RT Book Reviews
The Author:
Melissa Jagears is the Carol Award-winning author of the Unexpected Brides series and the Teaville Moral Society series, and an extreme night owl.
Much to her introverted self's delight, Melissa Jagears hardly needs to leave her home to be a homeschooling mother and historical romance novelist. She doesn't have to leave her house to be a housekeeper either, but she's doubtful she meets the minimum qualifications to claim to be one in her official bio. Her passion is to help Christian believers mature in their faith and judge rightly. Find her online at http://www.melissajagears.com, Facebook, Pinterest, and Goodreads.
"I stay home with my kids, and though that's PLENTY enough to do, I decided to add homeschooling and writing novels into my schedule too! I am an English/English as a Second Language teacher by trade and still occasionally convince myself to stuff an English class into my schedule since I LOVE adult second language learners (When students are eager to learn, that's a teacher's dream job).

My husband and I have been married since 2001 and have a daughter and two boys. My husband loves blacksmithing, knife smithing, traditional archery, hunting, etc. Generally whatever a mountain man does, he does it or has or wants to attempt it. He comes in handy for research!"