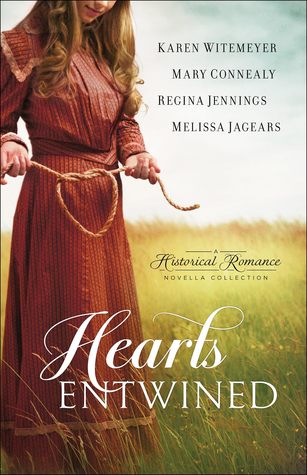 What a fun novel!  It is comprised of 4 novellas – each long enough to have a complete story but short enough to not need the same time commitment as a full novel.  I loved all of them and enjoyed reading the different stories!  Taking place in the Midwest during the late 1800's/early 1900's, they all have different bents to them – rich and poor heroines, frilly fancy ones and tomboyish ones – and each was enjoyable.  They read as complete stories, but if you have read other novels by these authors you will recognize the characters as minor ones in the other novels.
I really enjoyed these stories – and really had to laugh reading the 3rd one as it dealt with camels in the American Midwest!  I recently rode a camel and loved the author's description of them – "Camels weren't as easy to spur as horses, since they tended to have a mind of their own…"  How true!  I highly recommend this book!  I received a copy of this book from the publisher. I am freely writing a review – all thoughts and opinions are my own.
Four top historical romance novelists team up in this new collection to offer stories of love and romance with a twist of humor.

Hearts Entwined
Four Historical Romance Novellas of Love (With a Twist of Humor)

The ways of love can be complex. Sometimes a relationship full of unexpected twists and unlikely turns leads to a bond that's strong and secure. Join Karen Witemeyer, Mary Connealy, Regina Jennings, and Melissa Jagears for novellas that follow the winding path of romance in stories that celebrate a love that lasts forever.

The Love Knot
When Claire Nevin's troubled younger sibling sends her an unexpected package by rail, the gift and the man who delivers it–an unexpected face from the past–threaten to upend Claire's life forever. Fighting to hold on to all she has built, will she lose what matters most?

The Tangled Ties That Bind
Connor Kincaid returns home determined to win the hand of the woman he was too young for when he left. But Maggie is training to be a doctor in a distant town, while Connor's about to settle on a ranch. Will either be willing to give up their dream? Or will they both have to give up the love of a lifetime?

Bound and Determined
As punishment for his recklessness, Private Bradley Willis is sent on an errand to help a retired cavalry officer move a herd across Indian Territory. No one told him the herd would be camels instead of cattle, nor that the officer's headstrong daughter, Ambrosia Herald, would seem to be trying to undermine the whole enterprise. He's definitely been saddled with more than he's bargained for.

Tied and True
Wealthy Marianne Lister is in love with business assistant Calvin Hochstetler, but he can't see past the difference in their social status. When Marianne takes a job to prove that she is prepared for a life of hard work alongside the man of her dreams, will it be enough to convince Calvin to risk it all for love?
Each tale is a fun blend of history and romance that will delight readers.
The Authors: 
Karen Witemeyer is a winner of multiple Carol Awards and has been a finalist for the RITA Award and National Readers' Choice Award. She lives in Abilene, Texas.http://www.karenwitemeyer.com
Mary Connealy is well-known for her award-winning, bestselling historical romantic comedies. She lives on a ranch in eastern Nebraska. http://www.maryconnealy.com
Regina Jennings is the acclaimed author of The Fort Reno Series. She lives outside Oklahoma City, Oklahoma, with her husband and four children. http://www.reginajennings.com
Melissa Jagears, author of the Unexpected Brides series, lives in Kansas. Her novella, "Love by the Letter," won the 2014 Carol Award. http://www.melissajagears.com.  Melissa was kind enough to skype with my book club last fall and we found out that she writes late in the night because her days are filled with homeschooling her children!